You must allow cookies and JavaScript for a proper shopping experience.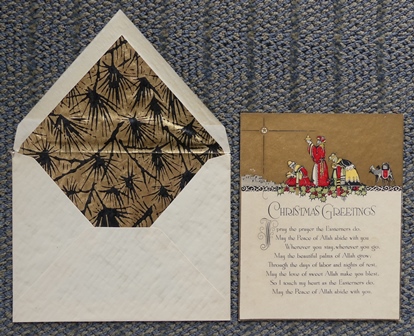 Price: $15.00 USD
Seller ID: 30510
Binding: In Envelope
Condition: Very Good
---
Single sheet card (i.e. not a folded card), c1920/30s, with unusual verse. "Christmas Greetings / I pray the prayer the Easterners do, / May the Peace of Allah abide with you / Wherever you stay, wherever you go, / May the beautiful palms of Allah grow; / Through the days of labor and nights of rest, / May the love of sweet Allah make you blest, / So I touch my heart as the Easterners do, / May the Peace of Allah abide with you." Colorful illustration at top of card has a gilt sky, the star over Bethlehem the three kings & their camels with holly below. The card has not been used - no signa...
View More...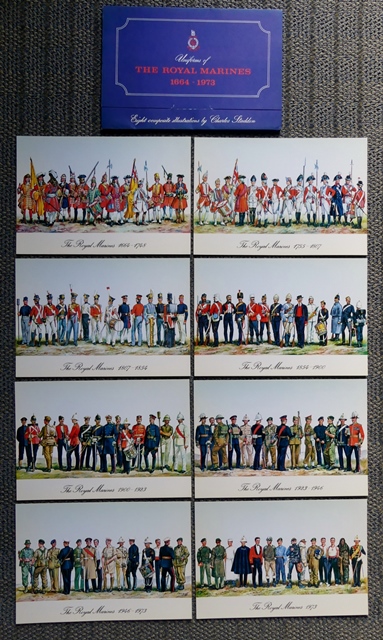 Price: $25.00 USD
Publisher: Portsmouth, Royal Marines Museum
Seller ID: 30157
Binding: In Envelope
Condition: Very Good
---
Eight colour cards (5 3/4" H x 8 1/2" W) by Charles Stadden, depicting the uniforms of the Royal Marines from 1664 to 1973, in dark blue folder with crest, banding and lettering in red & white. The rear of each card gives a short note and numbered list, with captions, of the uniforms illustrated. The cards are dated: 1664-1748; 1755-1807; 1807-1854; 1854-1900; 1900-1923; 1923-1946; 1946-1973; 1973. Very light browning around the edges of the cards. Envelope has one small corner bump, very light corner wear, slight fading to top and bottom edge colour, very small tear at either side of tab - ...
View More...