You must allow cookies and JavaScript for a proper shopping experience.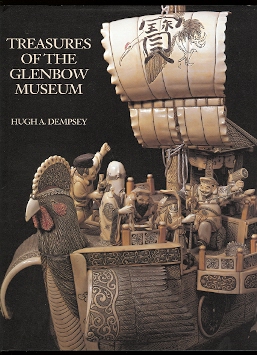 Price: $25.00 USD
Publisher: Calgary, Alberta, Glenbow-Alberta Institute : 1991
Edition: First Edition
Seller ID: 28575
ISBN-13: 9781895379006
Binding: Hard Cover
Condition: Near Fine
---
200 pp, 11 1/4" H. Profusely illustrated in colour and b&w. "(P)rovides a glimpse into the vast collections of the museum and tells the stories of their origin and acquisition. From 1954 to 1966, Glenbow was the pride of Eric L. Harvie, Calgary philanthropist. During those years, he brought priceless objects from all parts of the world, while his staff concentrated on collecting western Canadian artifacts. Since then, Glenbow has added significantly to its collections and has gained international acclaim for its exhibitions and museum programs." Very minor wrinkling at top of spine. Dus...
View More...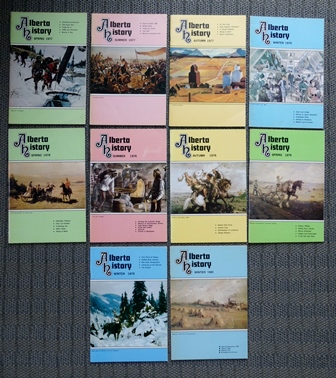 Price: $50.00 USD
Publisher: Calgary, Alberta, Historical Society of Alberta
Seller ID: 28936
Binding: Stapled in Wraps
Condition: Very Good
---
10 numbers of Alberta History, running from Spring 1977 to Spring 1979 plus Winter 1980, 10" H, each 40 pp. Colour pictorial covers, b&w photographs, drawings, maps, political cartoons. Articles cover: Half-Breed Commission; 1919 Royal Visit; Treaty No. 6; Road to Banff, 1890; Tom Kerr; Ku Klux Klan; Early Eugenics Movement; Skiing in Banff; Black Immigration; High Level Bridge; Women in Labour Movement; Railway to Athabasca; Bobtail Land Surrender; Edmonton Theatres; Arthur Evans; Stocking the Canadian Range; Elliott Galt Letters; Chivaree; Alberta Field Force; George Chipman; Buffalo Bone ...
View More...